Shipping and Handling
Order will be processed next day after payment completed.
Buyer is responsible for all shipping charges, including returns.
We deliver order worlwide, price and delivery time may vary depends destination.
To calculate our charges please, add the items to buy at your shopping cart

when you get in to "Your Shopping Cart" page at PayPal, shipping charges will be calculated once you enter your destination, if you want to see those charges before you checkout, please click on "change" hyperlink right next to the total of your order. and enter your destination.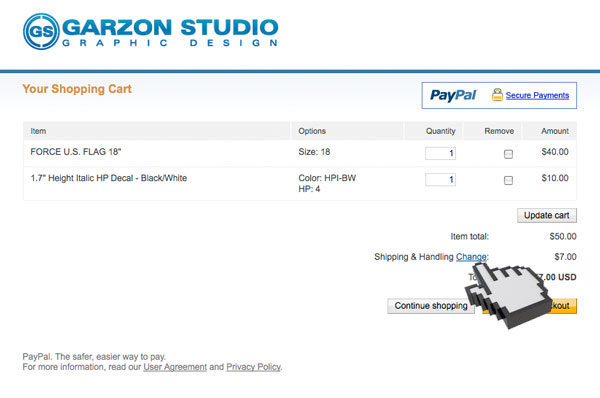 once you click on the hyperlink you will be able to enter your zip-code or change you destination country. Click on update and total will be shown on the screen.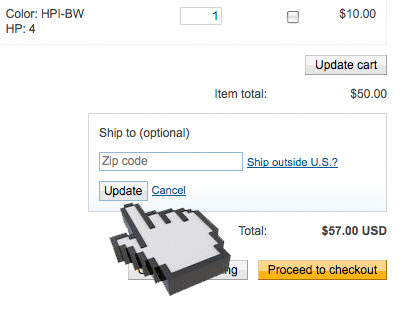 Tracking Number
Every transaction paid through PayPal is record on you account, and extra information is updated on real time, so this way you will get noticed about your tracking number or label ID. you can check at anytime the status of your order online.
You may experience some delays from USPS with the information updated on your tracking number when refers to First Class Mail or Priority Mail. Orders send by Express Mail are more reliable on tracking information and delivery time accuracy
Please send us an e-mail if you do not have your tracking number available, sometimes we send order manually.
Carrier
Our default carrier is USPS United States Postal Office.
If you want to use a other carrier such as UPS, Fedex or other please send us an e-mail before to submit you order.
International Orders
United States Postal Service (USPS):
Express Mail International - Delivers in 3-5 business days
Priority Mail International - Delivers in 6-10 business days
We recommend to use Express Mail to all International orders, be aware, that if you choose Priority Mail your order may experience delays up to one month to get on their destination or may get lost on transit on the worst case.
If you want to use a reliable carrier ( such as UPS or Fedex) please send e-mail before to submit you order.
We are not responsible for the package once the carrier has received your package.
Combine Orders
Yes you can combine orders, only if they are submited same day and is subject to approval. Please send an e-mail with your request.
Unfortunately, we cannot combine orders as default. Each order has a specific reference number labeled on the package(s) and it creates unnecessary difficulty in keeping track of the orders.
Shipping charges refunds:
Once the shipping label is printed to send you order, we do not refund shipping charges.
What do I do if my order is damaged during shipping?
Please notify us immediately of the damaged shipment. The first step would be to file a claim with your shipper. The next step would require the shipper to pickup the package for damage inspection. Once the inspection is verified and complete, a replacement of the damaged items will be shipped to the customer.